We continue to invest in our Intuit® ProConnect™ Tax Online customers in a multitude of ways. In addition to continuing to make ProConnect Tax Online a powerful tax preparation product, we are building additional training programs to help ensure you are maximizing the value of the software and its capabilities. Additionally, we are expanding our training library to include topics that will help you build key skills to position your firm for success in the future.
Webinars
From June 2017 through March 2018, customers took advantage of our webinars more than 50,000 times!
Here's a glimpse at just some of the topics we plan to cover this year:
Tax Reform Overviews & Deep Dives
Tax Planning Strategies and How-to
Safeguarding Taxpayer Data (Fundamentals & Intermediate)
Customizing Your Product
Business Returns
Basic & Intermediate Data Entry Courses
Our webinars are open to anyone interested in learning more about ProConnect Tax Online, even if you aren't a current customer, and taught by industry experts and customers who know the depth of our products and how to apply them to your everyday work. We also make recordings of them available so you can watch them at your own pace. And, best of all, you can earn this valuable CPE and CE free! Please note, webinar recordings are not eligible for CPE.
In addition to new topics, we are also refreshing the overall experience to more easily choose the webinar topics that are good for you and you practice, as well as a cleaner look and feel during the webinars.
Check out our webinar page in the June/July timeframe to see our new lineup of top requested topics based on your feedback. New webinars begin in July.
Hear from a fellow ProConnect Tax Online learner and user:
"When I saw the email about these webinars, I immediately registered for all of them and so glad I did! I love all-things Intuit and now I'm falling in love with ProConnect Tax Online, too! I appreciate what you're all doing with the education side of the software. It's going to be a good fit for my practice." – Tricia Compton, Compton Business Solutions, Inc.
TaxPro Talk (#TPT)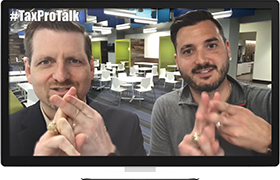 At Intuit ProConnect, we understand you have a lot of information to process during tax season. TaxProTalk (#TPT) is your ideal resource to get updates related to tax, your tax products and best practices related to your firm. Check out our new YouTube series hosted by ProConnect tax experts Anthony Hunt, Jim Buffington, CPA, and Kevin Reinard as they share updates on tax products, tax reform, training and best practices related to your firm.
We've completed 13 videos and plan to expand this format to deliver more of the current industry, product and tax law news to help you stay at the top of your game.
Invest in Your Future with QuickBooks® Online Training and Certification
The QuickBooks Accountant Education team is offering free, in-person training events across multiple cities starting May 15. Taught by QuickBooks Online Certified ProAdvisors®, these sessions will help accounting professionals master Quickbooks Online, become trusted advisors and grow their practice. Select from three different courses that best fit your learning objective. Plus, you can earn CPE credits. Learn more.