We are continuing to invest in our Intuit® ProConnect™ ProSeries® customers in a variety of ways. In addition to continuing to make ProSeries a powerful tax preparation product, we are also building even more training programs to help you make sure you are getting the most value possible out of all its capabilities. In addition, we are expanding our training library to include topics that will help you build key skills to position your firm for success in the future.
Tax Planning Boot Camp – Virtual Conference
Tax reform presents a great opportunity to transform your practice and increase your value as a trusted advisor for clients through proactive tax planning. When we surveyed our tax pros who attended our tax reform webinars, more than 70 percent said they plan to perform tax planning services for at least half of their clients in 2018.
The ProSeries Tax Planning Boot Camp is the conference to educate staff, define tax planning strategies and transform your practice to deliver continuous, forward-looking services that help your clients prosper. Many firms have traditionally focused on tax preparation, viewing tax planning as a side business when requested. Tax reform provides the stimulus to change the paradigm to become forward-looking tax strategists who proactively minimize taxes. We will teach you how to view your clients holistically, across all their business activities and goals, and develop ongoing tax strategies that reinforce your value as a trusted advisor. Practitioners will share how to transform your tax preparation practice into a tax planning practice. We'll also provide ideas to better market your tax planning expertise, and share tools to help you be productive and stay deeply engaged with your clients.
Exclusively for ProSeries customers, this 1.5-day event will be an engaging conference. You can meet your ProSeries product managers and ask tax reform experts questions. Our goal is to help you power prosperity for your clients through effective tax planning strategies, proven business practices and cutting edge collaboration solutions.
Tentative agenda:
Keynote & Kickoff: Powering Prosperity with Tax Strategy (not eligible for CPE/CE)
Tax Reform: Understanding the Changes
Using the ProSeries Tax Planner
Networking Lunch (not eligible for CPE/CE)
Building Your Practice Around Tax Planning
Tax Planning Strategies
Marketing Your Tax Planning Practice
Deeply Engaging Business Clients with Cloud Apps (not eligible for CE)
How ProSeries will support Tax Reform (panel with product managers)
Create Your Strategy & Action Plan
Webinars
From June 2017 through March 2018, customers took advantage of our webinars more than 50,000 times!
Here's a glimpse at just some of the topics we plan to cover this year:
Tax Reform Overviews & Deep Dives
Tax Planning Strategies and How-to
Safeguarding Taxpayer Data (Fundamentals & Intermediate)
Customizing Your Product
Business Returns
Basic & Intermediate Data Entry Courses
Our webinars are open to anyone interested in learning more about ProSeries, even if you aren't a current customer, and taught by industry experts and customers who know the depth of our products and how to apply them to your everyday work. We also make recordings* of them available so you can watch them at your own pace. And, best of all, you can earn this valuable CPE and CE free!
In addition to new topics, we are also refreshing the overall experience to more easily choose the webinar topics that are good for you and you practice, as well as a cleaner look and feel during the webinars.
Check out our webinar page in the June/July timeframe to see our new lineup of top requested topics based on your feedback. New webinars begin in July.*
*Webinar recordings not eligible for CPE.
Enhancing Your Personalized Training Portal With Artificial Intelligence

Our data scientists and engineers are working to build algorithms into your training portal experience to deliver an even more personalized experience! As a ProSeries customer, you have access to a free training portal that provides personalized, self-paced training for when you need a little help on a particular topic. We offer video and simulation-based training modules that are all under 10 minutes long; get the information you need, when you need it.
We plan to continue building more capabilities in this training portal to make it a robust and immersive experience that keeps you coming back for more! We are also in the process of adding even more great content, including additional videos and white papers. So, if you have already taken advantage of this incredible resource, be sure to check back for more great content.
Log in to your personal training portal and start taking advantage of all the great capabilities of ProSeries. Note: Modules provided in this self-paced training experience are not eligible for CPE. You must be a current ProSeries customer in order to login.
TaxProTalk (#TPT)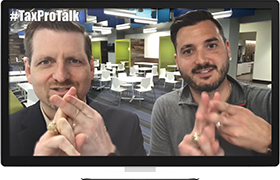 At Intuit ProConnect, we understand you have a lot of information to process during tax season. TaxProTalk (#TPT) is your video resource to get updates related to tax, your tax products, and best practices related to your firm. Check out our new weekly YouTube series hosted by ProConnect tax experts Anthony Hunt, Jim Buffington, CPA, and Kevin Reinard as they share updates on tax products, tax reform, training and best practices related to your firm.
We've completed 13 videos and plan to expand this format to deliver more of the current industry, product and tax law news to help you stay at the top of your game.
Invest in Your Future With QuickBooks® Online Training and Certification
The QuickBooks Accountant Education team is offering free, in-person training events across multiple cities starting on May 15. Taught by QuickBooks Online Certified ProAdvisors®, these sessions will help accounting professionals master Quickbooks Online, become trusted advisors and grow their practice. Select from three different courses that best fit your learning objective. Plus, you can earn CPE credits. Learn more.